Narrow-bandwidth Television Association
From Peter Yanczer

I received the original photo of the mirror screw receiver, pictured in the photo-news section of Vol 31, No. 1. And a very nice photo indeed it is! Certain parts of the chassis suggest to me that it is a fairly recent construction (in the last 20 years), possibly by one of the NBTV members.The news letter gives credit to someone by the name of "Stubbekobing" as the source of the photo. I am wondering if there is any possibility of getting more information from the actual builder of this set.

I am putting together a file of photos, of mirror screws and mirror screw receivers. I would appreciate it if you would tell others that I am very interested in receiving copies of any related mirror screw material,. Full letter to be published in next newsletter.
From Steve Ostler
Now I have installed the disks laser-cut from Denis Asseman's file, here are is an example of results, taken from the screen of my mechanical colour monitor. The signal source for most of them was Grant's eprom generator,though one picture shows Mickey Mouse as seen through my mechanical colour NBTV camera. I could do with a willing model ! In reality the pictures look much better - some degradation has been caused by the digital photography. Click here for discussion group


Some interesting WEB site from our members
Association pour la conservation du patrimoine de la télévision mécanique member Roger Dupouy

The following photographs show Roger's latest project, a 30 line mechanical televisor working with an antique tube amplifier. As Roger did not find genuine TV neon lamps he improvised with a large neon indicator used for industrial applications. Pictures from the unit were best when viewed in total darkness. More >>>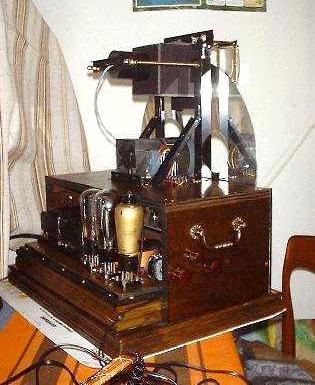 Regards from Austria
You can also look at Hans-Peter Traussnigg's very professional homepage www.promef.at.tf Hans-Peter Traussnigg


Some interesting WEB site from our members
Project: 32-line Hybrid Mechanical Television Receiver-Eckhard Etzold
click here
Mr. Pelagalli at the Museum in Bologna demonstrates early television on a Daily Express television. Click here

Association pour la conservation du patrimoine de la télévision mécanique. Click here

This is Peter Yanczer, from the States. I have a web site on once again. Please pass the word. it is: televisionexperimenters.com

I have a request concerning newsletter Vol 31, No. 1. On the photo page, picture No. 4 is referred to as a mirror-drum receiver. I suppose someone has already said something about this, in that it is not a mirror-drum receiver... it is instead a mirror-screw receiver. Now for my request. I would appreciate a good picture (300 dpi or better) just like the one in the newsletter and any others that may be available of the same receiver. Associated information would be welcome as well.



Association pour la conservation du patrimoine de la télévision mécanique. Click here

Newsletter Vol. 31 No. 1 now out
Latest newsletter out click here for details
John Logie Baird website move
This is just to let you know that the John Logie Baird website has moved to the appropriate address www.bairdtelevision.com My son Iain is doing a wonderful job keeping it up to date and there is ample capacity for growth on the new site which will report current news events as well as historical developments connected with Baird Television.
Malcolm Baird




Picture courtesy of Don McLean

During Ray's years of active retirement he became a leading historian of the life and work of John Logie Baird. He was uniquely qualified for this through his early experience with Baird Television Ltd. and his network of contacts with former Baird employees. His home near Croydon was within a short journey of the places where Baird had worked such as Hastings, Soho, Sydenham and the Crystal Palace.
I first met Ray in 1985 while on a sabbatical leave from my academic post in Canada. Until then I had been aware of my father's contributions in a broad sense, but pressure of time had prevented me from learning much of the fine detail. That first meeting with Ray encouraged me to make more of a study of television history. We were both professional engineers and had the same "no-nonsense" approach, with all pieces of information traced to their sources, cross-checked and linked as far as possible to form a coherent story.
Ray wrote frequently for the NBTVA Newsletter and the Bulletin of the British Vintage Wireless Society. He made an outstanding contribution to television history with his book "Seeing by Wireless"(1997). In 2000-2001 he was of immense help to Antony Kamm and me in compiling our book "John Logie Baird - a life". He played a part in organising the special transmission of mechanically scanned television across the Atlantic on short wave in February 2003, marking the 75th anniversary of the first transatlantic television.
Television history can be a touchy subject not entirely free of arguments, but I will always remember Ray's friendship and humour and sense of proportion. Several times I visited his home and he and Helena treated me with the utmost hospitality and consideration, realising that I needed a peaceful break in my hectic visiting schedule. Ray's passing has been a major blow to his fellow television historians, but his memory lives on as sound and video recordings, innumerable articles, and his excellent book "Seeing by Wireless".

Hans-Peter Traussnigg
I am interested in producing a NBTV monitor using a 40 by 30 resolution LED-dot display. The photograph below shows the display I have built. I am seeking help from amongst NBTVA members for help with the electronics to drive this unit. Please reply through the WEBmaster.

Best regards Hans-Peter


Hans-Peter's site can be found at
http://www.lbs-eibiswald.ac.at/hpt/

Kevin Hadfield's Four-quadrant LED scanner


I just received the 30th anniversary issue of the Newsletter and read Kevin Hadfield's article with great interest ...it seemed a bit long until I realised that the second page of text had been repeated as the third page! That sort of thing can happen all too easily with computers.
It occurred to me that the spinning cylinder idea could be adapted to my father's "bank of lamps" large screen that he demonstrated in 1930. An unforeseen problem with that screen was the immense heat produced by 2100 flash lamp bulbs, but if the assembly was mounted on a rotating cylinder the heat would have been dissipated!

Malcolm Baird July 2005
Urgent request from NBTVA club member

Where has all the Hot News gone?
We have had to reduce the size of this page. The historical contents can be found by
clicking here.